Piano Island – Professional Piano Tuning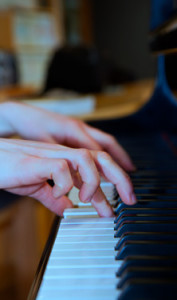 Piano tuning is $150.45
                               + 9.55    (6.35% CT Sales Tax) =
                           $160.00    Total, cash, check or PayPal
$160.00 is always the total piano tuning cost, no matter how out of tune your instrument is.
Inflation fighter: we never charge for a pitch raise!
We serve all of Connecticut, and there is no travel charge within the state.
Please email Tom Dans at tomdans6@gmail.com or call (203) 230-2626 to set up a piano tuning appointment.  (The phone number is a land line with an answering machine.)
Our piano technicians are experts in tuning antique instruments and pianos that haven't been tuned in a long time, old or new.
We're always happy to help with any piano questions that you have.  We use the most professional tuning tools available, the Sanderson Accu-Tuner IV and the Fujan tuning lever, pictured below.
Tom Dans                           Debra Mason                             Greg Cole
Sanderson Accu-Tuner IV                                  Fujan Tuning Lever  (click on image to enlarge)
Online Reviews and Client Feedback:
5-Star Google Online Review:
Susan P., Hamden, CT   September 21, 2021   5-Star Rating
Positive: Professionalism, Quality, Responsiveness, Value
"Just had to come on and write a review about Tom! He just tuned my childhood piano, which had not been tuned in many years. He spent a lot of time and was super professional and nice. He shared piano teacher recommendations and interesting trivia about our particular piano that we had been unaware of. I thought the price was more than fair even without all the time and excellent attention he gave our piano! Also appreciated that he responded promptly to all communications and was exactly on time. Very pleased with the service. Thanks so much Tom!"
5-Star Online Review:
Alane A., Bozrah, CT:
"Tom was very professional and personable. He even had recommendations for a piano teacher near me. I would definitely hire him again.
This customer rated you highly for punctuality, professionalism, responsiveness, and work quality."
5-Star Online Review:
Rachael G., Old Saybrook, CT
"Tom was phenomenal. He is a clear communicator so it is easy to schedule with him.  He arrived on time and did thoughtful, detail-oriented work on both repairs and tuning.  The piano sounds better than I imagined it ever could!
This customer rated you highly for work quality, professionalism, responsiveness, value, and punctuality."
May 21, 2022 Email:
Hamden, CT Client
"Hi Tom,
Just to let you know that your tuning yesterday was the best one I have ever had. The sound is alive and the touch sensitive. It is a joy to play.
Thanks so much,"
September 2, 2022 Email:
Hamden, CT Client
"Hi Tom,
Thanks again for the excellent job you did with my piano. Your kindness and attention to detail are really appreciated. Looking forward to you taking care of the piano for years to come."
5-Star Google Online Review:
Udi P., New Haven, CT
"Tom Dans is an excellent, highly professional and qualified piano tuner. Tom did a wonderful job tuning our baby grand piano: After assessing its condition, taking into consideration the specific characteristics of the manufacturer and model (Sterling pianos), he did a very thorough job, spending a couple of hours bringing it up to great condition. Tom also referred us to an excellent repair technician and explained to us exactly what were the issues which had to be taken care of. The repair included also some work on the pins holding the strings, which unfortunately messed up the tuning which Tom did only a week earlier. The incredible thing was that I called Tom, explained the situation, and he came to us again right away and re-tuned the whole piano, free of charge! If you are looking for a piano tuner in Connecticut, I highly recommend working with Tom Dans."
5-Star Yelp Online Review:
D., New Haven, CT:
"The best. Tom is not only an excellent tuner – highly skilled, precise, thorough, and efficient – but also deeply knowledgeable about piano mechanics, construction, and history. I greatly enjoyed our conversation as he set to work. He completed his standard twice-over tuning in good time. Our piano sounds better than ever."
Yelp Reviews of Piano Island Tuning
Google Reviews of Piano Island Tuning
Q: How do we achieve a perfect piano tuning in 2023?
A: By using today's most advanced piano tuning techniques:
Every single piano is unique, with individual design characteristics that determine how it needs to be tuned.
Instead of imposing a preset piano tuning on an instrument, I measure each piano's inharmonicity with the new Sanderson Accu-Tuner IV. This state-of-the-art professional technology does the math to solve the physics puzzle within the tension-compression system that is a piano. The result is a custom calculated tuning specific to your piano for an absolutely perfect fit. I guarantee that it will be the best and sweetest-sounding tuning your piano has ever had. For those who are interested, this technique is easy to demonstrate in person.
If you watch me tune, you'll see that I use the piano factory tuning method of plucking the strings, instead of banging on the keys. In piano factories, the strings are tuned before the action is installed. This plucking technique is called 'chipping', and the name derives from the wood chips used to pluck the strings for tuning in early piano factories. Today, we use a plastic guitar pick for the same purpose. Tuning this way is more accurate and is gentler on your piano than banging the keys loudly, as many tuners do.
5-Star Google Online Reviews: 
Frank C.
"Debra Mason is very personable and thoroughly professional. Her wealth of experience and excellent training are evident in her specialty –piano tuning as well as in the general care and overall maintenance of the instrument. I consider her fees to be extremely modest for the reliable and meticulous service she offers, exceeding all expectations!"
Lori F.
"Deb did a wonderful job on my "new" used piano that hadn't been tuned for years, a tough job. She's friendly, thorough, and highly competent."
Dawn R.
"When I taught piano at a music school in Woodbridge several years ago, Deb was the only tuner we employed. She's a fantastic tuner and a really nice person as well. Very mellow & laid back; a pleasure to work with and always flexible with scheduling. :D"
Yahoo! Local review:
"Debra Mason has tuned my piano throughout a 22 year period and I would never trust my beloved instrument with anyone else. She has an incredible ear and my piano sounds so bright and precise. Her sunny personality makes her a pleasure to do business with. She is in high demand, BUT SO WELL WORTH THE WAIT! Debra carries on a legacy of fine tuning as her father, the late Vernon Urtel, passed his fine ear and talent to her."
New Haven, CT Yelp User Online Review:
Meagan F., New Haven, CT
"Tom from Piano Island Tuning came over to tune my piano, and he is wonderful.  First, the price is great.  Second, Tom was courteous from the moment I contacted him until the moment he left the house.  Third, he's honest — my piano is old and needed a repair, and rather than tune the piano poorly and charge me for the time, he refused payment for this tuning and referred me to an associate of his who does repairs.  This was a smart move, since now I will call him for every tuning for as long as I'm in New Haven."  Yelp Review
Jwarren J., West Hartford, CT   July 28, 2021   5-Star Rating
"Tom was so prompt getting back to me right away and recommending Greg Cole to do the tuning, as I thought I needed a big repair done from a recent move before I had the piano tuned. Greg was also prompt-fit me right into his schedule and even showed up early at my request. He quickly and easily fixed what I feared would be a big job and then expertly tuned the piano back to perfect pitch!" Our Yelp reviews:  Yelp Reviews of Piano Island Tuning
5-Star Google Online Review:
Erica C., North Haven, CT:
"Tom was simply amazing! We bought a used Wurlitzer piano that hadn't been played in over eight years. After three hours, Tom brought the piano back to life. It sounds brand new!!! We are so happy! Tom was incredibly knowledgeable and professional. I'd recommend him to everyone!! Thank you, Tom!!!"
5-Star Google Online Review:
Chetstone N., New Haven, CT:
"We are so lucky to have found Piano Island Tuning! Tom has helped bring an old piano that came with our house back to life and we are supremely grateful. He is knowledgeable and meticulous, and we look forward to seeing him regularly to keep our piano sounding sprightly."
How to get a free piano tuning:
Your first in-home piano tuning will be free if you purchase a new or used piano from our favorite piano store.
What could be better than a new piano with a warranty and a free tuning? Please contact us for details.
5-Star Google Online Review:
Timothy F., New Haven, CT:
"I am so happy to have found Tom of Piano Island Tuning. He did a thorough and beautiful job of tuning our piano. I appreciate the care and dedication he brought to his work. Look no farther, Tom is who you should hire."
Online Review on Nextdoor.com:
Ed D., Spring Glen, CT
"Tom does a really superb job.  I am somewhat hard to please on intonation, and I don't think I have ever heard my piano sounding this great – and I've been having it tuned for 35 years.  He is a perfectionist and as others have pointed out, if he sees some small thing that needs repair he tends (if possible) just to take care of it.  Cannot recommend him more highly for quality of his work. And he stands by his work. What a concept."
5-Star Online Review:
American Ballroom Dance Center, Springfield, MA
"This gentleman is the Consummate Professional.  He was right on time for our appointment and worked steadily until we were both pleased with the result of his piano tuning skills.  I would recommend this man to anyone needing their piano tuned.  Very pleased, Richard J. LaBrie
This customer rated you highly for work quality, professionalism, punctuality, value, and responsiveness."
5-Star Online Review:  
Lauren P., Shelton, CT
"Tom was great! It was evident he has a real passion for what he does and put in the time and effort to make sure the piano sounds as good as new! Our piano was extremely out of tune and I'm shocked at how incredible it sounds when he was done working on it! Any questions I had he was able to answer with no hesitation and he even taught me a few things about my piano I had no idea about! Will definitely be using him again for future tunings! Highly recommend & great price!"
5-Star Online Review:  
Elizabeth P., Westport, CT
"Tom took the time to really work on my piano that had not been tuned in years. He was patient, thorough, and explained all he did. I can highly recommend Tom, and will to all who need a real pro. He brought my piano back to life!
This customer rated you highly for work quality, professionalism, responsiveness, value, and punctuality."
5-Star Online Review:  
Frank H., Hamden, CT
"Tom arrived at my home to tune my 22-year-old Yamaha piano that hadn't been tuned in at least 15 years. He was punctual, which I like, and dedicated to doing a first-class job. He put in three hours tuning my piano and ensuring that everything was right. I couldn't be more pleased with the result. I will use him again for my next tune-up (which will certainly be sooner than 15 years) and I highly recommend him to anyone needing a piano tuned. Very personable guy.
This customer rated you highly for work quality, professionalism, responsiveness, punctuality, and value."
New Haven, CT Google User Online Review:
"Overall Excellent
I am thoroughly satisfied with Piano Island Tuning. For a very reasonable fee, Tom Dans not only brought my piano back to life, but also patiently explained how it works and advised me about its history. I have found my piano tuner!"
4-Star Online Review:
Kathy B., Clinton, CT
"Tom arrived on time and immediately began his evaluation of our piano. Being a very old instrument, he was very respectful of our family heirloom. The piano had been moved across the country, and had not been tuned for many years. Tom took his time to adjust each string, making our piano a pleasure to play and hear. Tom also repaired the ivory on two of the keys at no extra charge to us. He spent considerable time on one string in the lower registers, to ensure it would hold the correct pitch. We plan to use Tom and Piano Island Tuning for our future piano tuning needs.
This customer rated you highly for professionalism, responsiveness, and value."
5-Star Online Review:
Austin and Barbara K., Chicopee, MA
"We enjoyed meeting you, and we thank you for restoring our 65-year-old Steinert piano to its former glory. Once again it is a joy to play.
This customer rated you highly for work quality, professionalism, value, responsiveness, and punctuality."
5-Star Online Review:
Elizabeth H., Portland, CT
"Great experience. We had just gotten an older piano and it needed love to get tuned. (Over 3 hours of love!) I was impressed at how thorough and professional the experience was! We will definitely be using Piano Island Tuning again. In fact I have already recommended them to 2 friends!
This customer rated you highly for responsiveness, punctuality, work quality, value, and professionalism."
5-Star Online Review:
Sherry H., Old Saybrook, CT
"Mr. Dans was wonderful; he even researched my piano and gave me a lot of history about the instrument. My piano hasn't sounded this good in years.
This customer rated you highly for responsiveness, professionalism, work quality, punctuality, and value."
5-Star Online Review:
Gabrielle R., Waterbury, CT
"Punctual, professional. Took a lot of time making sure it was right. Excellent customer service for a very reasonable cost.
This customer rated you highly for work quality, value, and professionalism."
5-Star Online Review:
Mindy S., Redding, CT
"Excellent service."
July 14, 2017 Recommendation Email:  
Guilford, CT Client
"Tom Dans just tuned our piano. He was careful, patient, and kind, and did an excellent job. He also answered all our questions and taught us a lot about our piano and how to care for it. We absolutely plan to ask him to come back next time we need the piano tuned."
New Haven, CT Yahoo! Local user Online Review:
"Tom is a great professional and very easy to work with. We recently purchased an upright Sterling for our house. He was very helpful at every step and gave us complimentary wax and a brand new sand clock! He provided us with some information regarding the piano we've purchased which I thought was very helpful. He came back to make sure that the piano was tuned perfectly and didn't charge us. He is very honest and reliable. If you need a piano, I would certainly recommend him. Thank you Tom!"
5-Star Online Review:
Sheila B., West Cornwall, CT
"5 Stars, Piano Tuning
This customer rated you highly for professionalism, and responsiveness."
5-Star Online Review:
Fatmir O., Rocky Hill, CT
"5 Stars, Piano Tuning"
5-Star Online Review:
Mark F., Waterbury, CT
"I would recommend this piano tuner to everybody.
This customer rated you highly for work quality, responsiveness, professionalism, value, and punctuality."
Is there anything we can do to prepare for a piano tuning?
Please don't run the dishwasher. If possible, provide a quiet environment so that we can do our best work.  External noise makes it hard to hear the piano strings for fine tuning.  We appreciate no vacuuming, doing laundry, dishwashing, or having any other home services at the same time, such as roofing or fireplace cleaning.
All objects need to be removed so that the technician can open the piano for access to the tuning pins.
In most upright pianos, the tuner will prop up the lid and remove the front board for access to the tuning pins; grand pianos will be opened and the music desk removed.
Good lighting is always helpful for tuning and playing the piano.
We service all locations in New Haven, Fairfield, Hartford, Litchfield, Middlesex, New London, and Windham Counties in Connecticut.
Please allow for extra time for tuning a player piano or an antique square grand piano, due to disassembly and reassembly requirements.
Piano Island is a registered business in the state of Connecticut, tax ID # 45726999-001.
CT Piano Tuning     康涅狄格州 钢琴调音     コネチカットのピアノチューニング     코네티컷 피아노 튜닝
Piano Tuning Service Area
These are the areas served by our piano tuners:
Allingtown, Andover, Ansonia, Ashford, Aspen Glen, Augerville, Avon, Baltic, Barkhamsted, Beacon Falls, Berlin, Bethany, Black Point, Borough, Branford, Bridgeport, Belle Haven, Bethel, Bethlehem, Black Rock, Bloomfield, Bolton, Bozrah, Bridgewater, Bristol, Brookfield, Brooklyn, Burlington, Canaan, Canterbury, Canton, Centerbrook, Centerville, Chaplin, Cheshire, Chester, Clinton, Cobalt, Colchester, Colebrook, Columbia, Cornwall, Cos Cob, Coventry, Cromwell, Danbury, Darien, Deep River, Derby, Devon, Durham, East Granby, East Haddam, East Hampton, East Hartford, East Haven, East Lyme, East Windsor, Eastford, Easton, Ellington, Enfield, Essex, Fairfield, Fair Haven, Farmington, Foxon, Franklin, Gales Ferry, Gardner Lake, Gilman, Glasgo, Glastonbury, Glenbrook, Goshen, Granby, Greenfield Hill, Greens Farms, Greenwich, Griswold, Groton, Guilford, Haddam, Hadlyme, Hamden, Hampton, Hanover, Hartford, Hartland, Harwinton, Hebron, Higganum, Huntington, Ivoryton, Jewett City, Kensington, Kent, Killingly, Killingworth, Lakeville, Lebanon, Ledyard, Lisbon, Litchfield, Long Neck Point, Lyme, Madison, Manchester, Mansfield, Marlborough, Meriden, Middle Haddam, Middlebury, Middlefield, Middletown, Milford, Monroe, Montville, Moodus, Morris, Mount Carmel, Mystic, Niantic, Naugatuck, New Britain, New Canaan, New Fairfield, New Hartford, New Haven, New London, New Milford, Newington, Newtown, Noank, Norfolk, Noroton, North Branford, North Canaan, North Franklin, Northford, North Haven, North Stonington, North Westchester, North Windham, Norwalk, Norwich, Oakdale, Old Greenwich, Old Lyme, Old Mystic, Old Saybrook, Orange, Oxford, Pawcatuck, Plainfield, Plainville, Plymouth, Pomfret, Portland, Preston, Prospect, Putnam, Quaker Hill, Redding, Ridgefield, Riverside, Riverton, Rockfall, Rocky Hill, Rowayton, Roxbury, Salem, Salisbury, Sandy Hook, Saugatuck Shores, Saybrook, Scotland, Seymour, Sharon, Shelton, Sherman, Shippan Point, Short Beach, Simsbury, Somers, Southington, South Lyme, South Meriden, South Windsor, South Windham, Southbury, Southport, Sprague, Spring Glen, Stafford, Stamford, Sterling, Stonington, Stonington Borough, Stony Creek, Stratford, Suffield, Taconic, Tariffville, Taftville, Thomaston, Thompson, Tokeneke, Tolland, Torrington, Trumbull, Uncasville, Union, Vernon, Versailles, Voluntown, Wallingford, Warren, Washington, Waterbury, Waterford, Watertown, West Hartford, West Haven, West Mystic, Westbrook, Weston, Westport, West Simsbury, Westville, Wethersfield, Whitneyville, Willington, Wilson Point, Wilton, Winchester, Windham, Windsor, Windsor Locks, Wolcott, Woodbridge, Woodbury, Woodmont, Woodstock, Yalesville, and Yantic, CT.
Hours of happiness… playing a tuned piano!
A piano tuning makes a great gift, and it's super easy to set up with a phone call or email.
Like to leave a review?  You can do it here:  Post a Google Review of Piano Island Tuning
Our Piano Technicians:
Debra Mason is the best! She is the most experienced and beloved piano technician in the New Haven, CT area. Debra is prompt, personable, thorough, and great at what she does, which is providing New Haven piano services – piano tuning and repair.
Greg Cole apprenticed with Dr. Wayne Rusk, III, Professor of Piano, Theory and Organ, Mansfield University, PA, Music Department – Piano Tuning Program. Greg has tuned and repaired pianos his entire life, and we are glad that he is now a Connecticut piano tuner. He brings to us a career of tuning, restoring, and maintaining pipe organs from Boston to DC under the direction of Steve Emery. Greg has cared for the great pipe organs of these institutions:
Princeton University Chapel, Princeton, NJ
Westminster Choir College, Princeton, NJ
Curtis Institute of Music, Philadelphia, PA
St. Ignatius of Antioch Episcopal Church, New York City, NY
Muhlenberg College, Allentown, PA
St. Paul's Episcopal Church, Chestnut Hill, Philadelphia, PA
Church of the Redeemer, Bryn Mawr, PA
Christ Church – Old Town, Philadelphia, PA
and Calvary Episcopal Church, Summit NJ, among others.
Greg's quote: "Are you looking for the exceptional to draw out the best your piano could be?"
Tom Dans has a true passion for what he does, and he puts in the time and effort to make sure every piano sounds as good as possible. He is committed to using state-of-the-art electronics and modern piano factory tuning methods to bring forth the unique qualities inherent in every piano for the best possible sound quality and playing experience. His role as a consumer advocate is called upon with every piano inspection he performs.
Tom does a multi-step electronic analysis of every piano to prepare for tuning. The numbers obtained from determining the string inharmonicity at F3, A4, and C6 are used to calculate a custom tuning for each piano. This advanced tuning technique ensures that the bass, midrange, and treble notes will all match perfectly. The tonal voice will have better focus, and sustained chords will have a noticeable unity anywhere on the keyboard.
Our Network of Piano Technicians
The very best piano technicians and specialists in Connecticut are in our network. We will only work with the finest professionals in the field so that we can guarantee that all portions of Connecticut have access to skilled and honest piano service. Please feel free to contact us to be connected with your favorite piano technician:
Greg Cole
Richard Cruz – Specialty, piano moving & storage
Ken Farrington
Curt Innaco – Specialty, piano refinishing
Eric Johnson
Jon Lasse
Herb Lindahl – Specialty, player piano repair
Debra Mason
Paul Neri – Specialty, luthier
Ed Pichulo – Specialty, piano repair
Amy Tiernan
Bill Trotman
Tom Dans – Specialty, custom piano tuning
Links to Piano Manufacturers:
Mason & Hamlin Piano Co:    https://masonhamlin.com/
Charles A. Walter Pianos:   https://www.walterpiano.com/index.php
Steinway Pianos:   https://www.steinway.com/
Baldwin Pianos:   http://www.baldwinpiano.com/
Essex Pianos:   https://www.essexpianos.com/pianos/essex
Boston Pianos:   https://www.bostonpianos.com/pianos/boston
Bechstein and Hoffman Pianos:   https://www.bechstein.com/en/upright-grand-pianos/
Bosendorfer Pianos:   https://www.boesendorfer.com/en
Yamaha Pianos:   https://usa.yamaha.com/products/musical_instruments/pianos/index.html
Kawai Pianos:   https://kawaius.com/
Petrof Pianos:   https://www.petrof.com/ 
The Major Piano Brands
This is a list of the largest piano manufacturers in the world. Each has a different method of piano making, and so each brand offers a unique musical tone and playing experience. Together, they manufacture thousands of pianos annually.
Albert Weber
August Förster
Baldwin
Bechstein
Bluthner
Bosendorfer
Boston
Brodmann
C. Bechstein
Cavendish
Cristofori
Eduard Seiler
Essex
Estonia
Fazioli
G. Steinberg
Grotrian
Haessler
Hailun
Hallet-Davis
Irmler
Johannes-Seiler
Kawai
Kayserburg
Kingsburg
Knabe
Mason & Hamlin
Pearl River
Perzina
Petrof
Pramberger
Ravenscroft
Ritmuller
Ronisch
Samick
Sauter
Schimmel
Schulze-Pollmann
Seiler
Shigeru-Kawai
Steingraeber
Steinway
Story & Clark
W. Hoffmann
Weber
Wilh-Steinberg
Wilhelm-Grotrian
Wyman
Yamaha
Young Chang
Zimmermann
Piano Tuners Near Me and their Piano Tuning Cost:
Piano tuners near me in Connecticut vary widely when it comes to the piano tuning cost. Whether or not the technician does a repair, the tuning cost can range from $99 to $175 and up. Why should this be so? The answer is simple: Many tuners do a cheap quickie tuning by ear only, or with a smartphone app to do as many tunings as possible in a single day. The results can be dismal. Typically, the bass, midrange and treble will be mismatched, and some of the unisons I have heard in the field made me cry. True professionals use dedicated, analytic piano-tuning devices, such as the stroboscopic Sanderson Accu-Tuner III and IV. They take the time to make sure that your tuning is perfect. An experienced tuner will use specific techniques to set the tuning pins properly, and this setting of the pins ensures that your tuning will hold for six months to a year. Also, if the tuner doesn't take the time to do a final check and make adjustments, the settling of the strings can cause notes to go out of unison and create odd sounds.
Is a pitch raise included in the price? Most pianos are so out of tune that they need all the notes to be adjusted to the correct pitches before they can be fine-tuned. This is to ensure that your tuning will be stable.
Cheshire piano tuning – Cheshire has many beautiful pianos that we have tuned. Ranked as the 28th Best Place to Live in the U.S. by Money Magazine, Cheshire is known as the Bedding Plant Capital of Connecticut. 
Durham piano tuning – Durham has one of the best recording studios in Connecticut. We're happy to provide contact information!
Fairfield piano tuning – The best piano shop in Connecticut is in Fairfield! We're happy to provide free guidance when you are buying a piano.
Guilford piano tuning – Christine S. Towne, the best piano tuner in Guilford, has retired. We are happy to provide service for her clients. Please call us at (203) 230-2626.
Stamford piano tuning – There are a few piano stores in Stamford, and we're happy to provide guidance when you are considering purchasing a piano.
Waterbury piano tuning – We have tuned more pianos in Waterbury than any other town in Connecticut.